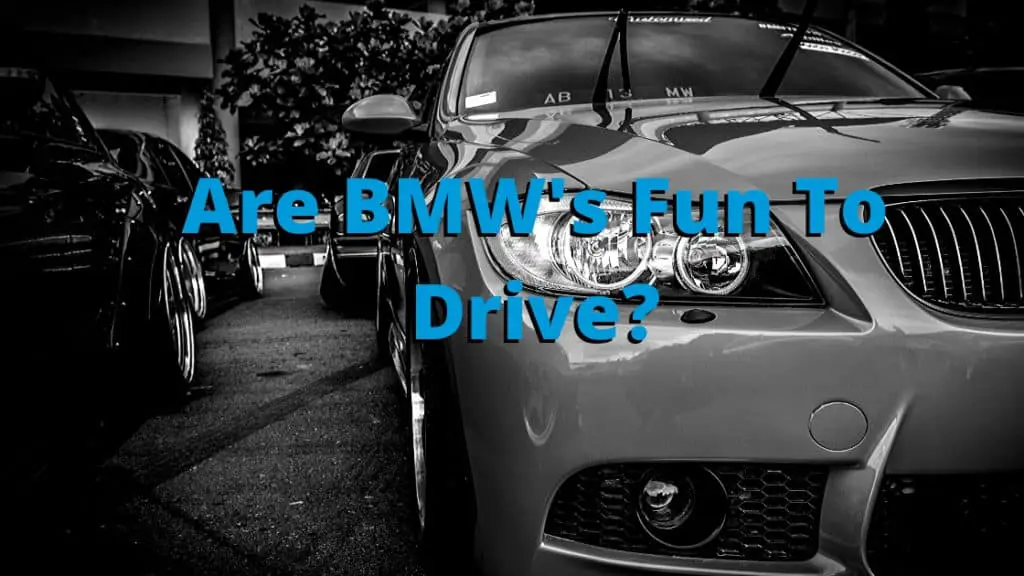 If you're thinking of buying a BMW, then you must have plenty of questions. One of the most pressing, although perhaps not most important – are BMWs fun to drive? There's a reason that many people buy a BMW and then never go back! Read on to find out what you need to know about handling a BMW and keeping it going forever. 
Are BMW's Fun To Drive?
BMW provides pure driving pleasure for the owner of the car. As soon as you sit down in the driver's seat, you will feel connected to the car and the road, ready to go wherever the feeling takes you. It is truly a memorable experience and one that drivers want to experience again and again. 
When you pay heavy attention to both the interior and exterior details, you'll have a very good idea of why car enthusiasts favor the BMW. There's a driving option for every kind of scenario, too; sport, eco, drift, luxury, and normal mode! All you need to do is decide what suits you best. Of course there are also the latest features to enjoy, with world class technology. 
The responsive steering allows you to turn the steering wheel intuitively and your car will turn as you expect it to. Balanced weight distribution means that the car feels stable when turning. This is a car that is not only a joy to drive, but feels safe and predictable – it's confidence building for any driver. 
However, you need to be careful. It's easy to get used to turning corners faster than other cars, and it can be difficult to tell how close to the limit you are because everything feels so safe. 
Which BMW Is The Most Fun To Drive?
The BMWs that are the most fun to drive tend to be the rear wheel models. This is a fun and dynamic driving experience for any driver. There are many rear wheel models to choose from, so it's all down to which features you like best and which you find most aesthetically pleasing.
Are BMWs Fast?
BMWs can be very fast, but of course, this also depends on which one you're looking at. Some are far faster than others. The BMW M5 Competition model is currently the fastest production car in the BMW lineup, going from 0 to 60 mph in 3.1 seconds. Here's an idea of how fast just some of the models perform:
M3 Sedan: 0-60 mph in 3.9 seconds
M4 Coupe: 0-60 mph in 3.8 seconds with Competition Package
2 Series – M240i xDrive Coupe: 0-60 mph in 4.2 seconds
3 Series – 330i xDrive Sedan: 0-60 mph in 5.3 seconds
i3 – i3s: 0-60 mph in 6.8 seconds
i8 – i8 Coupe: 0-60 mph in 4.2 seconds
X4 M40i: 0-60 mph in 4.6 seconds
X5 xDrive50i: 0-60 mph in 4.6 seconds
X7 xDrive 50i: 0-60 mph in 5.2 seconds
There are so many more models that can drive as fast if not faster than the above. Again, all are a lot of fun to drive so it just depends on what you're looking for. Below is an idea of why these cars are so fast:
Lightweight materials – The M Series, for example, is designed with materials like carbon fiber which help to reduce drag and increase agility.
Light but powerful engine – BMW TwinTurbo engines have fewer cylinders while still delivering more than 100 hp per liter.
Performance tools – If you still like hitting the track, you can use special features on your M model like the M Laptimer app with GoPro integration, which analyzes your driving style on a closed course and can help improve lap times.
Why Are BMW's The Best?
BMWs are often referred to as 'the ultimate driving machine'. Just think of what it did to earn itself that nickname!
Many people will agree that BMWs are the best cars, but of course, it depends on who you're speaking to. The fact remains that they are one of the most sought after car makes in the world. They manage to make it a lot of fun for the driver, and pair it with amazing engineering, beautiful interiors, and space for many passengers with a punchy engine to boot. What could be better than that?
These cars are considered prestige – truly a status symbol for drivers. This is why they are loved by car enthusiasts and business men all over the world. There's a BMW for most budgets, too, so you can often enjoy driving one of these awesome cars no matter how much you have to spend!
Because they are so much fun to drive, some people think that they are not very reliable. This is not the case! BMW is a premium car that is also reliable. The only thing you need to remember is that they do need maintenance. You need to take good care of it and be willing to spend money to keep it performing the way it should be. They require oil changes done at the right time, using the correct oil and not knock off brands that suit your budget better. If you maintain your BMW it will last forever – well, the engine will.
The BMW has been built to meticulous standards, therefore you need to be prepared to maintain it that way. If you not only select the right car for you but look after it like a baby, it will last forever. You can never be too careful when it comes to taking care of one of these cars.
Although you don't want to scrimp and save on parts, also make sure you choose the right shop to take your car too. You need a shop that is experienced in taking care of high end cars. If there's a BMW dealership you can visit, then do it. You really shouldn't take any chances if you want your BMW to stay one of the best and most fun cars to drive out there!